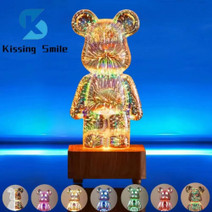 LED 3D Bear Firework Glass Lamp Cute Night Light Bedroom Decoration
Firework Lamp Bear LED Night Light Decoration Home Bedroom Multiple Colors Luminarias Romantic Atmosphere Cute Desk Accessories
3D atmosphere table lamp,
using 3D patterned glass lampshade with environmentally friendly ABS anti-wood grain bottom.

· 7 colors of 3D fireworks lights can automatically change color or manually switch colors.
The perfect shape design in warm light + RGB mixed light, Dazzling light colors enhance the surrounding environment.
Warm and romantic atmosphere.
· The 3-color fireworks Bear lights consist of warm light, white light, and natural light.
The 3-color bear light has more brightness adjustment than the 7-color version.
Purpose: auxiliary lighting, ambiance decoration, small night lights, etc.

Product Description
Size: Please see the detailed page size diagram
Power: 5W+3W
Voltage: 5 V
Switch: USB direct plug (1.5-meter wire)
Material: environmentally friendly ABS + glass
Debugging: manual switch (adjustable light color conversion)


7 Colors Fireworks Bear A
HOW TO THE ONE KEY CONTROL THE SWICH
1st. Press the button, warm and bright.
2nd. Press the switch, all colors change slowly.
3rd. Then press the switch. All colors should be converted faster.
4th. Then press the switch, you can choose different light, the color is fixed and does not flash.


3color stepless dimming

3 color fireworks bear lights: not only warm light, white light, natural light,
You can also adjust the brightness

Gift for girlfriends, Valentine's Day Lamp

If you're not fully satisfied, please fill in our
contact us form
and we'll quickly work to correct the problem.