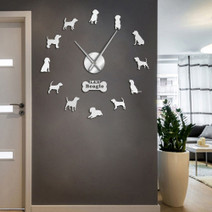 Beagle Wall Clock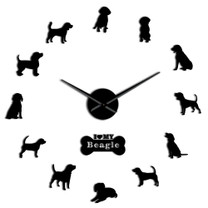 Clocks are needed and used from time to time for the obvious reason, to give information of time throughout the day. The modern version of clocks is not merely used to show time but also decorative items in a room's interior. This is an exciting thing, especially for the DIY Wall Clock. Modern design has given birth to the amazing designs of clocks. These amazing designs are truly great options to be tried and the designs will certainly excite the DIY enthusiasts. Many wall clocks are made as custom and they are made at home.

These clocks are usually also large in size. Say goodbye to the smaller wall clocks and say hi to the larger and more intriguing larger clocks on the wall. The best news of all, everyone can make these amazing clocks at home if they do have enough tools and materials, and a little bit of patience.

Sticker material: EVA Foam (Ethylene Vinyl Acetate)
Clock Material: Acrylic with Mirror Effect
Hour hand: 31.5 cm / 23.5 cm
Minute hand: 39 cm / 31.5 cm
Clock machine:12 cm/ 10 cm
Home Decor Effect Reference
DIY wall clock in different color and sizes, suitable for living room, bedroom, kitchen and other home decoration, embellish your blank wall !
PLEASE PEEL OFF THE PROTECTIVE PABER BEFORE INSTALLATION!
Silent Movement Clock Mechanism
The high-quality quartz movement mechanism guarantees precise time, quiet sweep second hand provide a good sleep and work environment.
If you're not fully satisfied, please fill in our
contact us form
and we'll quickly work to correct the problem.